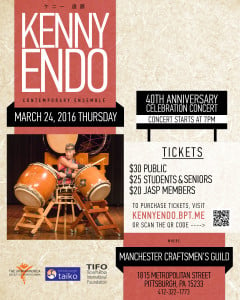 The Japan-America Society of Pennsylvania is proud to present the Kenny Endo Ensemble Taiko concert at the Manchester Craftsmen's Guild on Thursday, March 24th at 7PM. He is returning to Pittsburgh as a part of his 40th Anniversary Celebration tour and will be performing as an emsemble with Abe Lagrimas Jr (vibes, ukulele, drumset) and Sumie Kaneko (koto, shamisen, vocals).
Kenny Endo is a world famous taiko drum artist who has the honor of being the first non-Japanese national to receive the title of Natori (stage name and master's degree) of Hogaku hayashi – traditional drumming. He has performed for Michael Jackson, Princess Di, opened for The Who, and was recorded in motion-capture suit for James Cameron's "Avatar."
Ticket prices are as follows:
$30 for the public
$25 for students and seniors
$20 for JASP members
To purchase tickets, please visit http://www.brownpapertickets.com/event/2515383
The concert in Pittsburgh is sponsored by the Toshiba International Foundation.