Pittsburgh Taiko will perform on Saturday April 29 along with a variety of local percussion groups in the Western PA Percussion Ensemble Symposium.
The event is at Norwin High School in Irwin, and is free and open to the public!
The program starts at 10. Pittsburgh Taiko performs at 2:30, but don't be late - there are a lot of great groups up before us (like Pittsburgh Steeline!).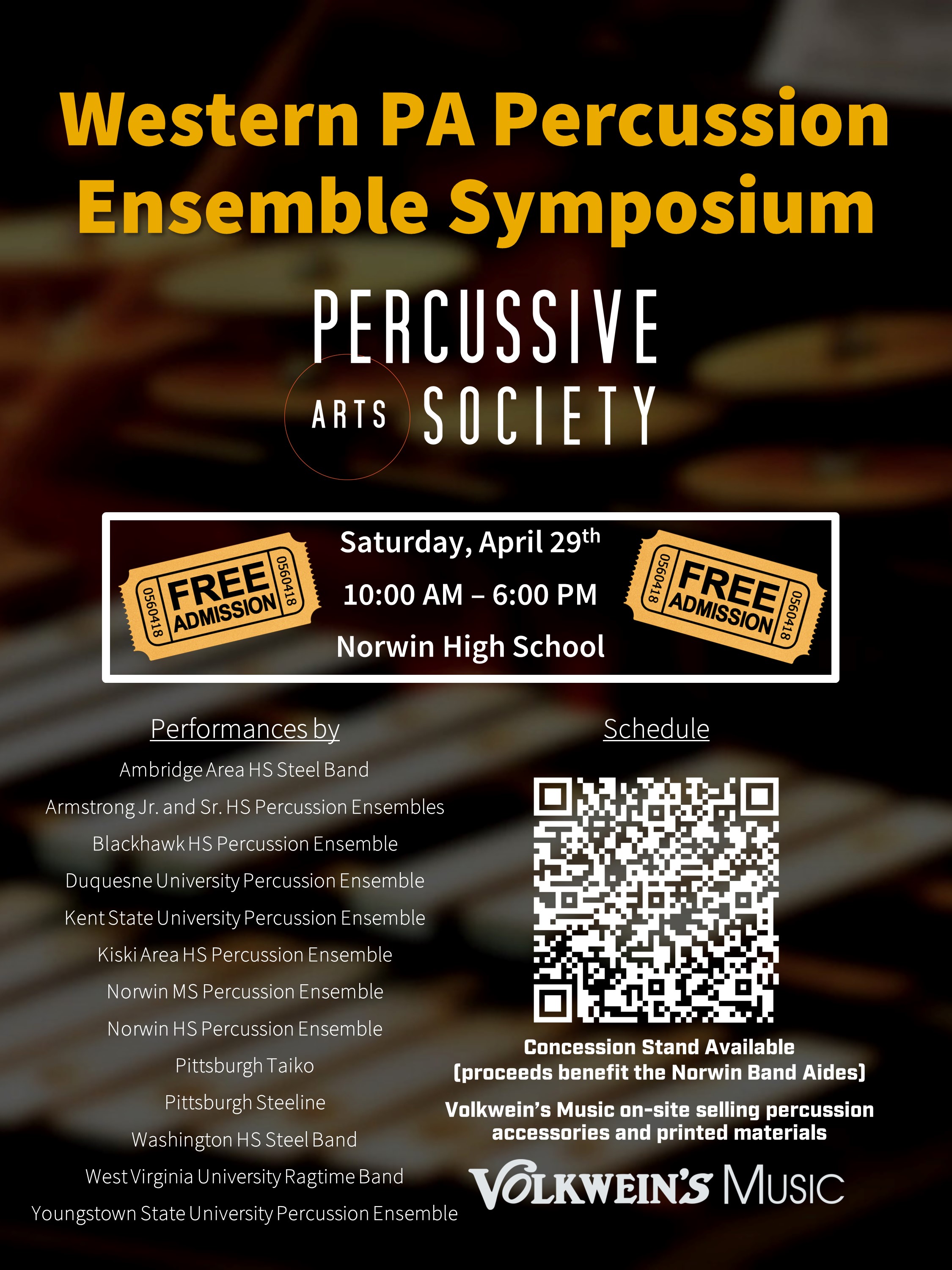 Thanks to Norwin High School Band for hosting and organizing this event! We can't wait to meet everyone.
Western PA Percussion Ensemble Symposium
Saturday, April 29th, 2023
Norwin High School
251 McMahon Dr, Irwin, PA 15642
Performance Schedule
10:00 - 10:15 Norwin Middle School Percussion Ensemble
10:25 - 10:50 Kiski Area High School Percussion Ensemble
11:00 - 11:25 Blackhawk High School Percussion Ensemble
11:35 - 12:00 Ambridge Area High School Steel Band
12:00 - 12:45 LUNCH
12:45 - 1:10 Armstrong Jr. High and Sr. High School Percussion Ensembles
1:20 - 1:45 Washington High School Steel Band
1:55 - 2:20 Pittsburgh Steeline
2:30 - 2:55 Pittsburgh Taiko
3:00 - 3:15 BREAK
3:15 - 3:40 Kent State University Percussion Ensemble
3:50 - 4:15 West Virginia University Ragtime Band
4:25 - 4:50 Duquesne University Percussion Ensemble
5:00 - 5:25 Youngstown State University Percussion Ensemble
5:35 - 6:00 Norwin High School Percussion Ensemble