Ever since my first workshop with Tiffany Tamaribuchi many years ago, I've been wishing that I could share her expertise first-hand with the whole group. This weekend, that wish finally came true, when we were able to bring her to Pittsburgh Taiko to teach a day-long workshop!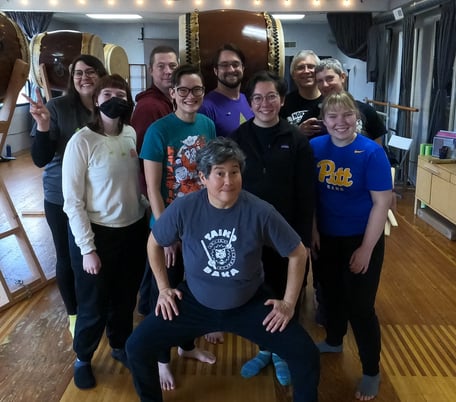 At Pittsburgh Taiko we don't have a "sensei" (master teacher) or an artistic director, so we take all the opportunities we can to learn from professional taiko performers and teachers.
Tiffany was able to fit us in for a day while traveling to movie promotions for the new documentary Finding Her Beat, which is premiering this fall all around the country.
We focused on basic techniques for flat stand and upright odaiko, and learned the importance of a balanced stance, hitting techniques that are relaxed and powerful at the same time (not to mention pain free!), and learned tools that will help us with variety of taiko playing challenges. There's something for any player to take away from a workshop like this, our first-year players as well as our veterans walked away with deeper knowledge and new things to try.
We'll be working on improving our skills and broadening our repertoire over the winter, and hope we can show you what we've learned in our next performance!
Bonus Tiffany Tamaribuchi content: Meet Women Drummers Keeping the Japanese Art of Taiko Strong